How I Got a Google Job With No Tech Background, Part 1
by Alan Stein on January 3, 2023
A 3-part series of how this first-generation college grad got into Google with no tech background and virtually no contacts.
This is Part 1 of a series that gets into the nitty-gritty of how I navigated the hiring process.
Here is the story of how I got into my "dream company" after getting rejected by them five times as a cold applicant. It's one thing to have a dream company in mind, but if you don't know how to navigate the landmines, the dream never becomes a reality. And that's what you're here for – right?
You'll see how some of the twists and turns apply to your own job search.
Whether your target is Google, Facebook, Microsoft, Amazon, Apple, or another top company, the game is played at a different level than what you're used to.
…Even if you have a top university degree.
…Even if you already make six figures.
…And yes, even if you already work at a well-known company.
The top firms are a major step up from how all other companies approach recruiting, hiring, negotiation, compensation, and promotions. I say this from experience: The big leagues are the big leagues for a reason!
Sign up for the XLR8R newsletter for weekly tips on accelerating your career, like I did!
Key takeaways
Job opportunities at big corporations come with big paychecks and prospects.
Your first hurdle is getting in-front of another person.
The best way to get through the recruiting screen is to utilize your "weak ties."
You don't need to meet 100% of the job description requirements to get the job.
Why We Want Google Careers
I'll start by sharing WHY I chose to apply at Google and what blew me away after I got in the door.
I'm not ashamed to admit it: I wanted to make a lot more money.
It was 2011, and I had a pretty good job at American Express for more than five years. I was a director making $125K annually with a predictable workload and job security.
You might think, "I'll take that!" I'm not going to pretend I was miserable or stuck in some dead-end job that I hated. But I was frustrated by the slow pace and the below-market compensation. Yes, $125K a year is below-market compensation.
Every year, during annual employee surveys, employees said, "We like the work-life balance, the culture, the prestige… but the pay sucks."
Google careers are some of the best-paying gigs in the tech (and any) industry. Almost every current job listing at the company pays six figures.
I also wanted to work on exciting projects and to be creatively and intellectually challenged.
I knew I could stay at American Express for as long as I wanted, but I was hungry for a new career adventure. As grateful as I was for what I had, I knew I was capable of more.
Google stood out as a sexy, high-growth company where I could level up. Google built (and still builds) amazing products that millions of people use. Their focus on strong product designs and creating tons of utility for people really inspired me.
Additionally, Google work environment was different and stimulating.
They had ball pits. You could wear jeans and T-shirts to work. They even let you bring your dogs to work. In my eyes, Google was the cream of the crop.
First Hurdle in Your Career Path: The Recruiter Screen
As you may know, top companies usually don't let you talk to a hiring manager right away. They use recruiters to screen the candidate pool and make sure that hiring managers only talk to realistic, promising candidates.
In essence, the #1 job of a recruiter is to DISQUALIFY YOU from moving forward.
Now, this is not to say that recruiters are mean or nasty, because they can actually be wonderful people. I'm friends with a lot of them, some of whom are closely involved with my work here at Kadima Careers.
I just want to emphasize that recruiters are motivated by the speed and volume of hires, and they don't give a damn about any individual candidate.
The good news is: if you know what traps to avoid (and more importantly, what to showcase to a recruiter), you can flip the dynamic around and raise the odds of being passed to the hiring manager.
Remember, I submitted five applications to Google that got ignored. Those previous (failed) attempts all had one thing in common, which is that I was a cold applicant coming in through the front door.
Getting Job Opportunities Through Weak Ties
On February 2, 2011, everything changed.
I was grabbing drinks with an old college buddy named Seth in downtown Manhattan, complaining about my challenges pivoting into tech. Seth knew I wanted to work at Google, and somewhere between our third and fourth beers, he said,
"Hey, I know a guy named Ben who you should talk to. He's a director there. We play in the same temple softball league. Want me to introduce you?"
I said yes, Ben and I exchanged some emails, and two weeks later we had a phone call. He was a super nice guy. He didn't know me from a hole in the wall, but he took the time to give me some good insight about Google. He also liked my background and told me about a couple of different roles at the company that I might be interested in.
I got past the recruiter screen thanks to a weak tie to Ben (through my strong connection with Seth who introduced me). One day later, I heard from the recruiter, Punit, and booked a call for February 25, 2011.
One theme you'll notices throughout this story is the difference a referral made as opposed to applying cold. I don't want to say that a warm referral makes up for ALL weaknesses in your candidacy, but it does give you a bigger margin for error. It's sort of like starting on second base.
How to Impress in an Interview When You Don't Have All the Required Skills
The role I was interviewing for was Manager, Product Operations & Escalation Management of Publisher Products. I didn't really know what that meant–– I was just excited to be interviewing with Google!
Because I was referred in, this conversation really was about giving an overview of the team, the logistics of the process, and the constraints around my potential for the role. But I was no less nervous about my first real opportunity to persuade a real human being at Google to hire me.
We discussed the key elements of the job and how I fit in with those requirements as well. Some of those I polished to a mirror shine during my time at American Express:
I needed to be operationally effective and work within a service organization.

I needed to solve and prevent tough client issues.

I had to lead through influence and change management.
However, I felt concerned that:
I had never run a global team (which I'd have to do at Google).

I had never managed complex technology projects before.

I didn't have "exceptional leadership skills" like they wanted.

The role required a BA or BS in a technology-related field from a top school. Mine was in psychology from a solid but relatively under-the-radar New York State school, Binghamton University.

They were looking for someone with experience in software and "a track record of success managing large-scale technical projects to completion." I didn't have that.
That being said, I came into that interview and put on a decent show. I told Punit that even though I didn't check every box, I had learned on the fly for my entire career. And I said that my hunger to excel would make up for what I didn't already know.
Getting Past the Recruiter
Early Monday morning, I got an email from Punit, "Alan, congratulations: you're moving on to the next round."
YES! That meant I would have an opportunity to interview with a hiring manager named Anant.
Quite frankly, I passed the recruiter screen with Punit by just being friendly and enthusiastic about working at Google. And Ben's recommendation also went a long, long way.
Fast forward a few months later, I started my job at Google in their NYC office on Monday, May 11th.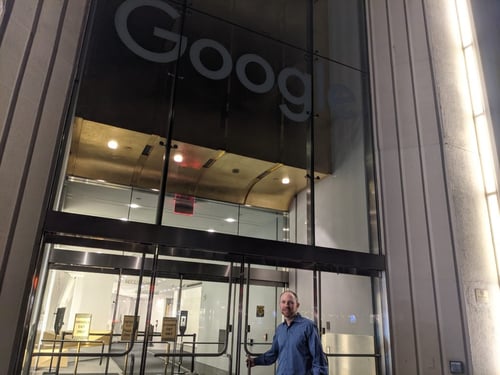 And during my six-year career at Google, I wound up getting nine people hired, which is a really high number. In comparison, Ben only successfully referred one person to Google in 10 years – me!
My success at getting people into Google is part of why I started Kadima Careers
Don't worry: I'm going to cover the details of the interviews and the negotiations and all of that in the series. You'll hear how I screwed up the salary negotiation and left at least $100K on the table. (Above and beyond the $62K bump that I did get.)
Check out Part 2, where I "rewind the tape" and take you through my first and second phone interviews.
Don't have a friend who knows someone at your target company? Check out these helpful articles with effective networking tips to learn how to cash in on your weak ties and build authentic relationships with boosters – people who want to help through advice and referrals.
No Comments Yet
Let us know what you think